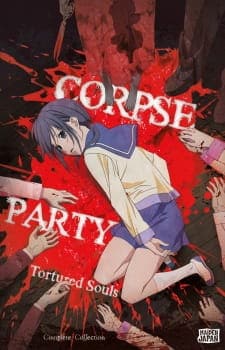 Keeping my promise to myself after watching Demon Slayer ( season 1) , I've been diving back into anime for inspiration. Stories like Hellsing Ultimate and Deadman Wonderland pushed the envelope of adult anime for me, but Corpse Party was pretty damn infamous and I always wondered why…until now.
9 school friends are chilling out, taking a break after a school event where they stayed behind to clean up. A very close, tight knit group of teens is about to be split when one of there friends is about to transfer school; they perform a goofy little ritual to celebrate their friendship and promise to continue it. When a massive earthquake hits, they wake up, alone in the dark and isolated and unable to leave no matter how hard they try. It's not long before they each find mutilated corpses in the halls and realize they are locked in a school cursed by mystery, insanity, and gruesome torture. Will they make it out alive?
Oh boy…Corpse Party freaked me out more than most horror movies did in the last decade and that's a huge compliment. The story is pretty simple but damn if it doesn't push the concept all the way. The visuals are really disturbing and creepy and their is a great sense of tension and desperation in really well confined quarters. It's super short at only 4 episodes but it runs really smooth and keeps a good pace. I will warn everybody of 2 things: this is an anime that has no regards for holding back on the dark subjects and sadly this anime is kind of a pain in the ass to find I'm afraid; it is on VRV. In the end, Corpse Party is a hell of a great, frightening anime that sure as hell ain't for the faint hearted but I highly recommend. May the gaming gods bring you glory.